Children's Division
For children ages 3 and up.
The Love of Ballet Begins Here
Watch your child's confidence, focus, and imagination grow with ballet. At Central Pennsylvania Youth Ballet, girls and boys learn coordination, ballet vocabulary, and classroom etiquette in a progressive sequence based on their development. These classes will help your son or daughter develop the life-long skills of focus, discipline, and confidence.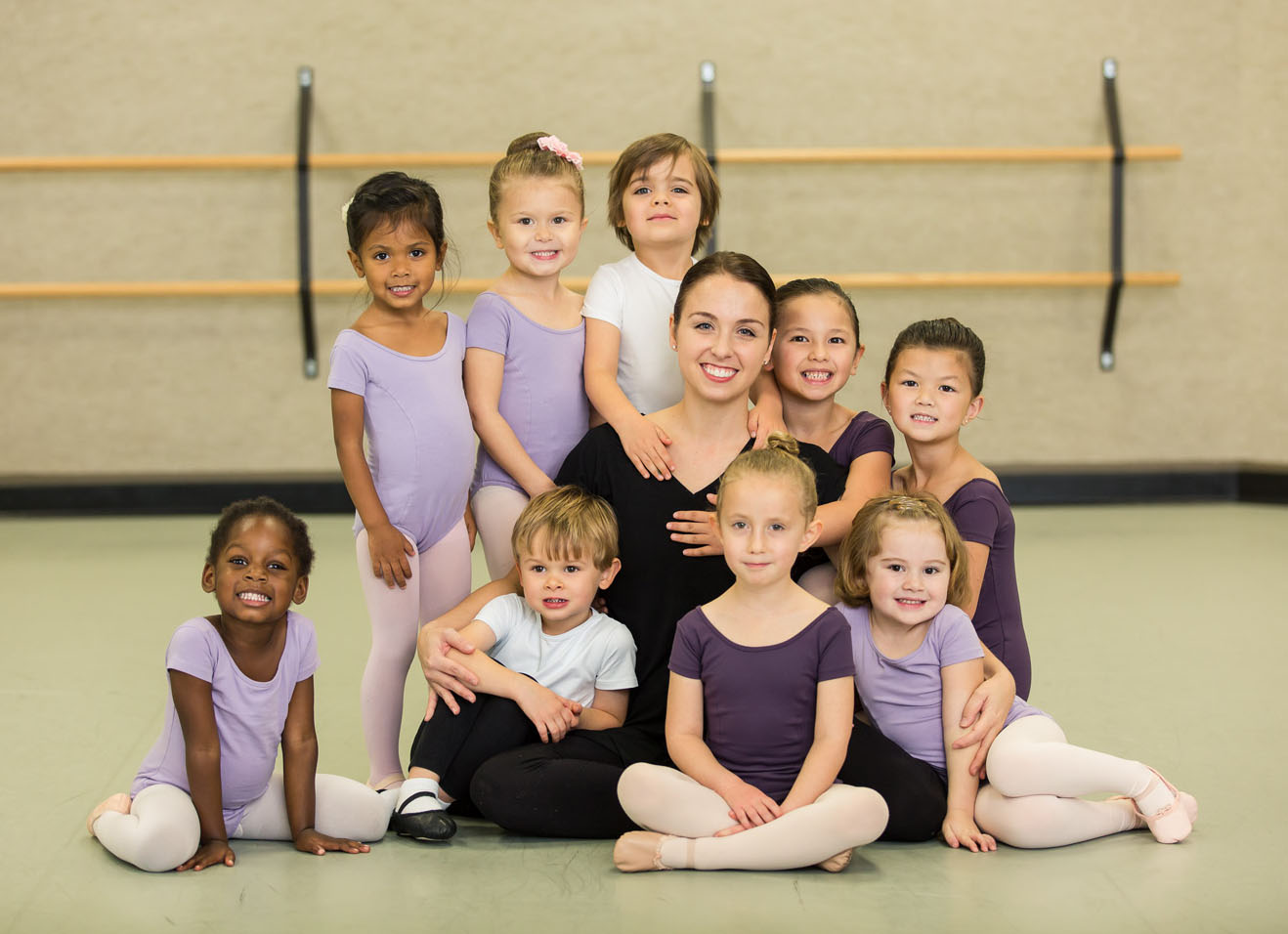 Creative Movement
For children 3-4 years of age by September 1.
This foundational class encourages a child's sense of creativity and imagination, while introducing them to the fundamental elements of movement. Students will gain awareness of musicality and rhythm while exploring the concepts of space, time, force, movement, body, and form. Age-appropriate classroom activities develop gross motor skills, strength, flexibility, coordination, and balance while introducing students to the structure, etiquette, and discipline of dance in a fun and encouraging environment. Students will learn classical ballet terminology and practice exercises specifically designed to prepare them for future ballet training.
Dancers may take one or two classes per week. Students must be potty trained.
Pre-Ballet
For children 5-6 years of age by September 1.
Pre-Ballet provides a critical transition from Creative Movement to CPYB's first level of classical ballet training. Foundational ballet techniques will be introduced in this course including barre work and basic ballet terminology. Elements of pantomime, as it relates to classical ballet narration, will also be incorporated in this class. Music, movement, and creativity will continue to be explored in Pre-Ballet to best suit the developmental needs of students and ensure an efficient transition from Creative Movement to Level I. 
To gain the most out of this training, it is recommended that Pre-Ballet students invest, at minimum, two ballet classes per week.
Tap
For Pre-Ballet students only.
Tap class develops the student's rhythm and coordination. As students learn to put dance steps together in a variety of ways, they improve cognitive thinking skills. Precise musicality and classroom etiquette are emphasized.
Students enrolled in Pre-Ballet, and who meet their minimum ballet class requirements, can enhance their dance experience by taking tap classes at no additional tuition cost.
| Class | Annual Tuition |
| --- | --- |
| Creative Movement | $750 |
| Pre-Ballet | $900 |
Class Schedule 2020/2021
All Children's Division classes will take place virtually via Zoom until further notice. Class times listed below are subject to change. *All times listed in EST.
| Class | Monday | Tuesday | Wednesday | Thursday |
| --- | --- | --- | --- | --- |
| Creative Movement | 4:30 -5:15 PM* | | 4:30 -5:15 PM* | |
| Pre-Ballet | | 4:30 -5:30 PM* | | 4:30 -5:30 PM* |
| Tap (Pre-Ballet Students Only) | | 5:45 - 6:15 PM* | | |
Learn More About the Program
We're here to help and answer any questions you might have.
Register Your Child Today
Registration for the 2021/2022 Academic Year is coming soon!