Pre-Professional Ballet Programs
Take your training to the next level. Pre-professional ballet programs are available for students up to the age of 19 – Applications are now being accepted!
Realize Your Dream at CPYB
Central Pennsylvania Youth Ballet's established training program has helped dancers realize their dreams for more than 65 years. Our proven curriculum, developed by renowned founder, Marcia Dale Weary, was designed to progress your skills and prepare you for success in the dance world and beyond.
Applications for our pre-professional ballet programs are accepted until the program is filled.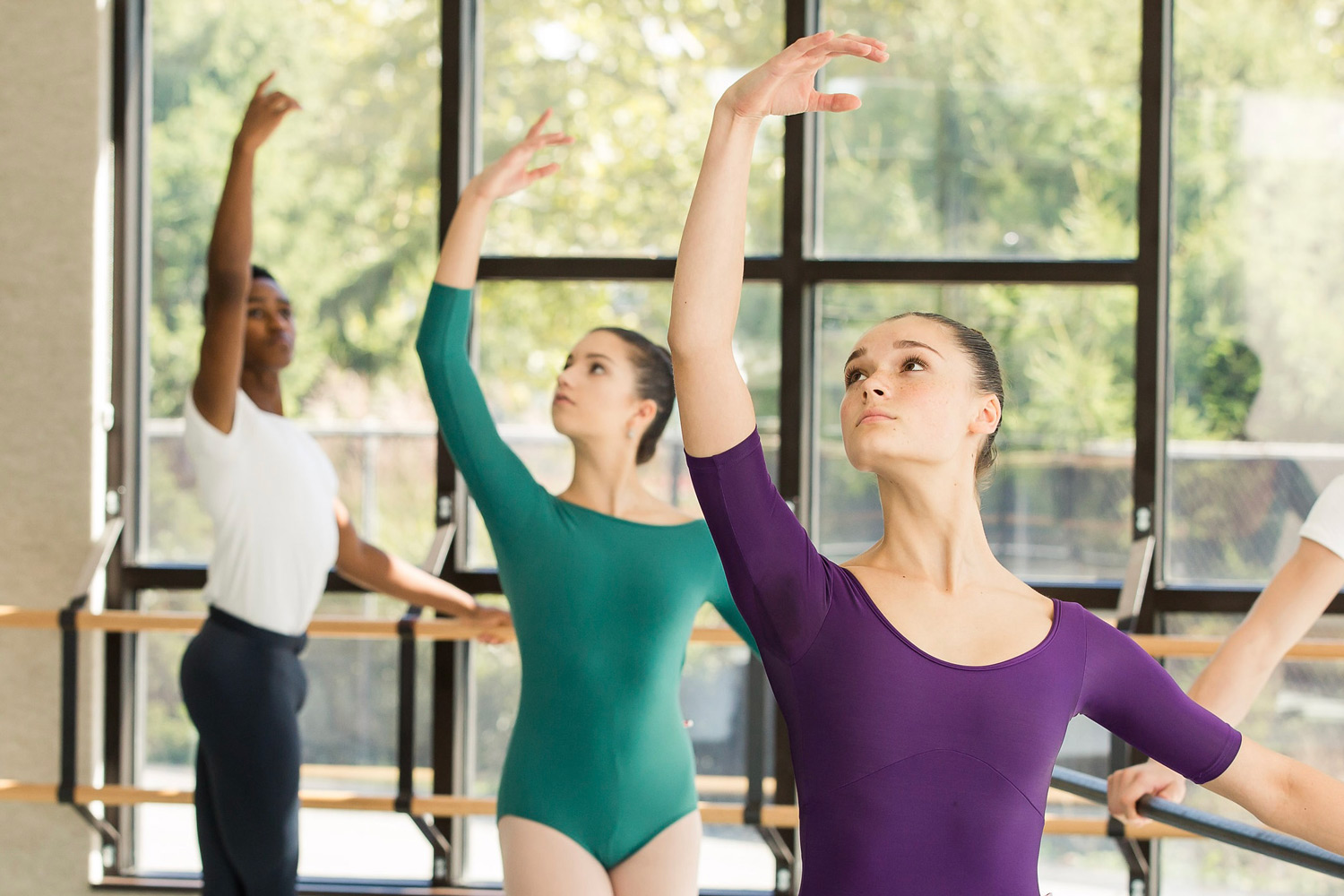 Central Pennsylvania Youth Ballet's pre-professional ballet program will build and refine your technique, as well as help you achieve your potential. Our faculty includes CPYB alumni, in addition to former professional dancers and choreographers, who provide the highest level of instruction and guidance to pre-professional students.
Students in the Pre-Professional Ballet Program division, consisting of Levels 4 through 9, earn their placement in each level through hard work, determination, and discipline. In addition to technique classes, students will attend pointe, pas de deux, variations, and men's classes. The amount of time spent in a particular level depends solely on the student's individual improvement, and is determined by CPYB's Artistic Leadership.
What is Pre-Professional Dance Training?
A dancer entering a pre-professional program is looking for their next step in advancing their technique and artistry. The program guides them through the rigors of professional dance training.
Dance is unique because it puts young people on a professional track much earlier than other careers. It does require is a person with the right mindset, training, and professional connections. Learn more about this type of program below!
Who Can Enroll in Pre-Professional Training?
Typically, pre-professional dancers have had dance training for several years. They are likely taking daily classes at their current dance studio and have experience performing.
Dancers with this technical experience looking to expand their learning opportunities at the next level should consider pre-professional training. This training is for you if:
You are 13 to 19 years old.
You are part of intermediate or advanced classes at your current school.
You take your dance classes seriously thriving during long days in the studio.
Read more about our audition requirements below!
Should You Enroll in Pre-Professional Training?
Because you have the physical capabilities doesn't mean you should automatically enroll in a pre-professional program. Before committing to one, you should have answers for the following:
Can You Balance Training and Academics?
You can study dance full-time even if you are still in high school. At CPYB, students can receive physical education and humanities credits from the Carlisle Area School District should they choose to pursue a high school diploma concurrently.
Are You Prepared For the Financial Costs?
Pre-professional dance training includes expenses like tuition, room and board, pointe shoes among other things. So before setting your sights on a pre-professional program, make sure you consider your options. Many schools offer scholarships—you should explore those as well.
| Class | Annual Tuition |
| --- | --- |
| Levels 4 - 9 | $5,300 |
Optional classes are at no additional cost to students. A $95 Registration and Security Fee is required each year.
Class Schedule
In the Pre-Professional Ballet Program Division, students participate in all required classes available at their level, Monday through Saturday. Optional classes are also made available to students. Class times vary by level and day, but typically begin by mid-afternoon and end by 8:15PM, Monday-Friday. Saturday classes begin late morning and end before 4:15PM (not including rehearsals).
Scholarships
CPYB provides merit and need-based financial aid to students. Learn more about our scholarship offerings and application dates.
Housing & Academics
Central Pennsylvania Youth Ballet does not provide housing for students relocating to Carlisle, PA.
CPYB works with the Carlisle Area School District so that students wishing to maintain traditional academic schooling may do so. CPYB students may receive humanities and physical education credits at CASD allowing them to have a condensed schedule.
Still Deciding If a Professional Career Is for You?
If you want to dance professionally but are unsure whether attending a pre-professional program will be a good fit for you right now, it's okay. There are plenty of ways you can explore pre-professional training to see if you are ready.
For instance, CPYB offers a 5-week summer ballet program and an August Course that gives students a preview into what it is like to train using Marcia Dale Weary's Proven Teaching Syllabus©. Many dancers who go on to enroll in the pre-professional program get their start in these programs. If the pre-professional life is for you—enroll today!
Learn More About the Program
We're here to help and answer any questions you might have. We look forward to hearing from you.
Audition Today
Applications are now being accepted!